Let NAI Global's international network take your business higher
---
The annual NAI Global Convention is a powerful reminder of the scale the NAI Global network is, and that NAI Harcourts is a part of. It's a platform to share global real estate knowledge and make international connections and in turn transactions that most real estate companies do not have the ability to do.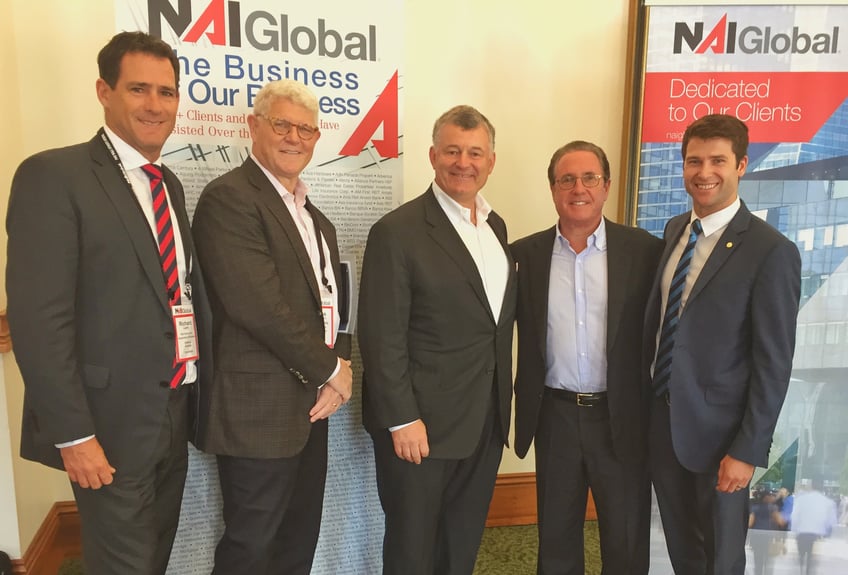 (LtoR) Richard Laery (CEO NAI Harcourts Australasia, Frank Garrison (President – C-III Capital Partners), William Lauder ( Chairman of The Estée Lauder Companies), Andrew Farkas (Chairman and Chief Executive Officer of Island Capital Group LLC, owner of NAI Global) and Rob Forde (CEO Harcourts USA)
After recently attending the NAI Global Convention in Carslbad, California in September, CEO for NAI Harcourts Australasia, Richard Laery says "the importance of our international connections is paramount for the future growth of the brand on an international scale. It is this global network that sets us apart from our competitors. This network is all at our fingertips and we have the ability to connect business worldwide".
With the convention being held in San Diego, USA it was a priority for Laery to connect with the on the ground NAI Global members in San Diego. Gary Swedback, President of NAI Mexico in Tijuana accommodated Laery with a visit to the NAI Mexico corporate office in Tijuana just 30 minutes south of the USA border. Business strategies, ideas and market data were shared with also a site visit to one of the industrial parks in Tijuana that are key for Mexican and international trade with the USA.
It was here that the medical division of the New Zealand Fisher and Paykel company sought their first overseas expansion project in 2008 through the commercial specialists at NAI Mexico. More recently the company has started building a new manufacturing plant on a 38-acre piece of land at an approximate cost of $50million. F&P Healthcare has used Mexico as a manufacturing base to supply US healthcare providers with its respiratory face masks. Both property transactions of Fisher and Paykel were facilitated by Swedback's NAI Mexico team. NAI Mexico were chosen by Fisher and Paykel as the most reputed commercial property company in Tijuana and through maintaining a collaborative relationship were appointed a second time.
Tijuana is an attractive location for manufacturing plants due its proximity for distribution to North America and its cheaper labour costs. Many international companies are situated in Tijuana for this purpose and are taking full advantage of the economic benefits such as aerospace, automotive and appliance companies to name just a few.
The NAI Convention was a meeting of the worldwide NAI Global commercial specialists. NAI Global President Jay Olshonsky and in-house council and Capital Markets Group member Alex Waddey discussed collaboration of the network to generate business beyond local markets. Olshonsky noted that this conference established a record for first-time attendees with over 100 new NAI professionals in Carlsbad, as well as members from China, Australia, Germany, Peru, Korea, Austria, Canada to name a few.
Andy McCulloch, Managing Director for Green Street Advisors, unveiled some insightful commentary on the future of business of retail.
McCulloch said there are 1200 malls in the U.S. today and he expects 300 of them will close in the next 24 months, and more malls will close in subsequent years. "It's one property type that is ripe for rightsizing," he said.
Apparel has historically constituted 75% of mall space. It is about 50% now and will be 25% in the future, replaced by experiential retail, entertainment and more food and beverage.
While eCommerce is currently the biggest disruptor in real estate, in the next 10-15 years driverless cars will be the biggest disruptor in real estate, according to the Green Street analyst. There are 3 million driver-based jobs in America now – 2% of the workforce, driving trucks and taxi cabs. Those jobs will vanish. There are 1 billion parking spaces in the U.S. that will be cut in half or more once fewer people own cars. America has 10 times the amount of garage space than we do self-storage space. All that freed up garage space will put a lot of self-storage out of business. How this plays out in the Australian and New Zealand Markets and if this is to become a global pattern will remain to be seen.
The convention included commentary from founder and CEO of Island Capital Group, Andrew Farkas and Executive Chairman of Estee Lauder, William Lauder. Lauder spoke with authority about the many various dynamics of his business. As the third generation to lead the business it was evident how involved and passionate he is about continuing the success of the prestigious skincare business his family over three generations has created.
News,