Chandler a stalwart among amazing volunteers
---
It was appropriate Phil Chandler was found applying a lick of paint to the club's six-pound cannon because it's the sort of thing he's been doing for the last 63 years.
Chandler joined the Queen Charlotte Yacht Club as a 17-year-old and, although he stopped sailing a few years ago, is still heavily involved as he approaches his 80th birthday.
"I was never much of a sailor," he said on a break from working on the cannon, but few could rival his commitment to the club. "I look back on my time with the club with pride and a lot of smiles. I guess I love people and it's been so much fun."
This week is National Volunteer Week and Chandler is just one of thousands of Kiwis who give up their time to help out at yacht clubs around the country. Some do it to give back, others for the love of the sport and some even find themselves roped into doing it.
Phil Chandler has been involved with the club for 63 years.
Chandler has worn a number of different hats over his time with Queen Charlotte (formerly Picton Sailing Club), from commodore (twice) and club captain to race officer and handyman, and recently built the dinghy racks in the new clubhouse.
It wasn't his only involvement in the latest rebuild, having put up his hand to be on the rebuild committee, and he could also be found knocking on the doors of past members to try to convince them to help out financially.
"I went around most of the oldies and hit them up for [some money for] a pile," he said. "Most people came to the party."
The club's latest rebuild is an impressive structure – "we will have the most brilliant site in Picton which everyone will want to come to" – but it was a quite different process to previous undertakings.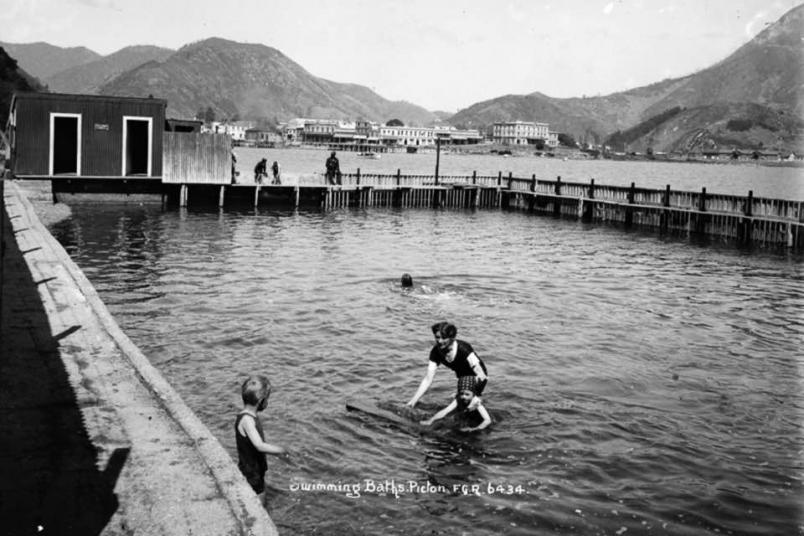 The old Picton swimming baths that was filled in and where the Queen Charlotte Yacht Club's hardstand is now located.
In the early 1960s, the old swimming pool area, which is now the club's hard stand, was filled in. With no road access, it was a major operation and everything required to drill and blast the hillside was brought in by boat and the rocks wheelbarrowed to fill the hole. 
A decade later, Chandler was also front and centre for the club's 'rebuild' of their clubhouse with old army huts.
"We ran into some trouble with the authorities, so thought we would 'renovate' the buildings instead," he explained. "We did half of that one winter and the other half the next. We didn't tell them what we were doing.
"We were paid for doing it back then; a jug of beer a day in wages."
It helped that Chandler worked for the harbour board, so could access equipment for work on the club, and was also a carpenter and joiner by trade.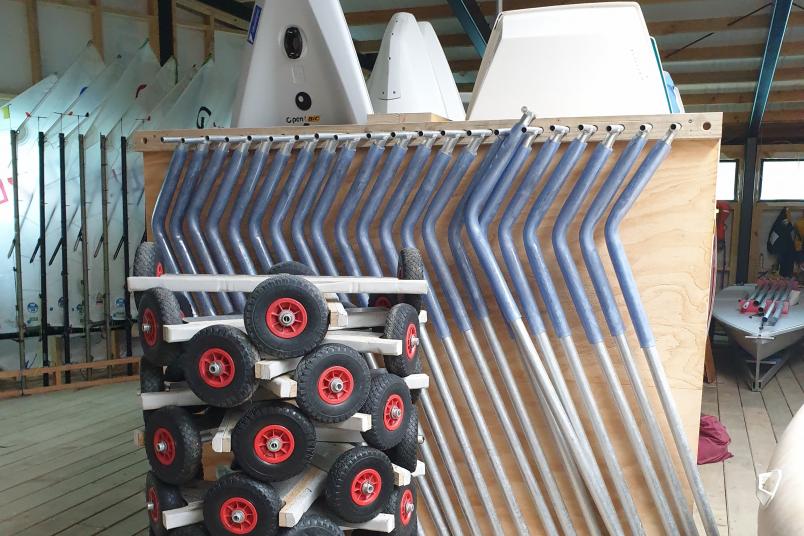 Chandler helped build the dinghy racks in the new clubhouse.
He gave up sailing his Paper Tiger about 15 years ago but was still running the green fleet racing for the Interislander Regatta up to a couple of years ago.
"I still go around there but mainly to have a beer and keep abreast with what is going on," Chandler said. "I help out where I can and will continue to do that for as long as I can."
Like a lot of sports, yachting couldn't operate without volunteers, whether it's helping on a learn to sail coaching course or driving a safety boat through to being a race officer or launching boats. Volunteers are the backbone of New Zealand sailing, and sport in general.
"Volunteers play such a vital role in sport," Yachting New Zealand national sport development director Raynor Haagh said. "Our sport relies on the goodwill, time and effort of amazing members of our community who help us deliver our sport, manage our clubs and enhance our club culture.
"It is important that we take time to recognise and acknowledge our volunteers and National Volunteer Week is a great opportunity to do that. From all of us at Yachting New Zealand, thank you to all of our club volunteers. We sincerely appreciate all you do.